Italian style homes embody an ideal of beauty that resists every trend and showcases a style all its own. Made up of timeless features that have been handed down from generation to generation, it is, and always will be, stylish and elegant.
Let's discover them together.
For An Emphasis on the Dining Area: Terracotta Floors
Terracotta floors are no recent addition to Italian homes. Early examples of it have been attested as far back as in the excavations of Pompeii. During the Italian Renaissance it was used in villas and palaces of the Italian elite all over our peninsula.
Terracotta floors are now an extremely valuable feature both for indoor and outdoor living. No other material highlights the beauty of antique wooden furniture as well as terracotta. That's on full display in this Tuscan vineyard estate – its floors really bring the dining area together, creating a cozy, elegant atmosphere, perfect for your forever home in the Italian countryside.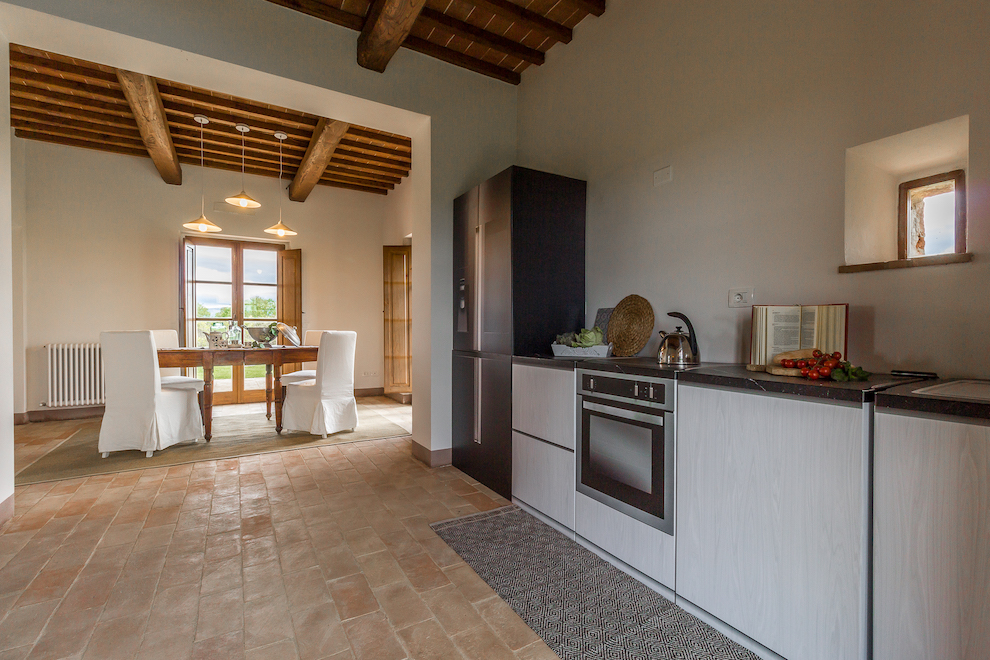 Cozy Interior Living: Wooden Beamed Ceilings
Speaking of terracotta, we also find it accompanied by what is another great feature of Italian style homes: wooden beamed ceilings.
Wooden beams are perhaps the greatest must-have of all Italian homes. They are made of oak, elm or chestnut, and are naturally treated to exalt the beauty of the original building materials.
However, more recent renovation projects have also shown a slightly different path. If classic beams are always a staple, you can also opt for bleached beams which create a more airy and lighter atmosphere, such as those showcased in this elegant farmhouse in the Tuscan countryside.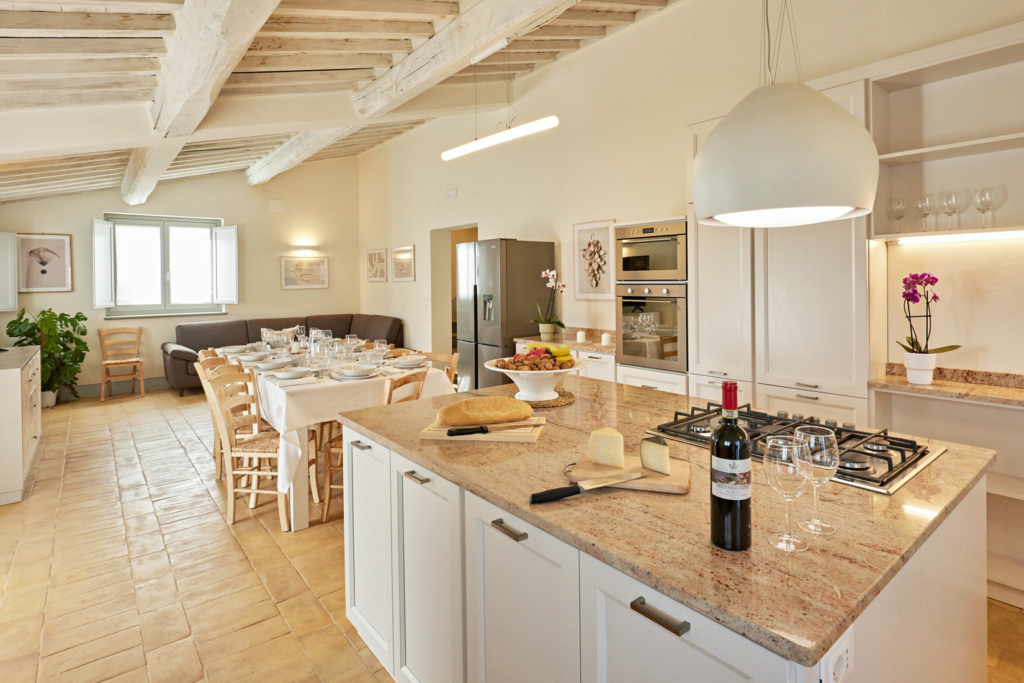 Classic Touches to Contemporary Homes: The Stone Wall
On the subject of classics – the stone wall is a statement piece in and of itself. It's a testimony that illustrates the construction history and the link that binds the house to the territory. A natural stone wall is a great feature for every room in the house.
Consider exposed stone on all sides of the room or focus on a single statement stone wall enhanced by the contrast with the white plaster of the other walls. In this shot, this contemporary villa overlooking Lake Trasimeno in Umbria showcases an elegant stone wall counterbalancing the overall modernity of the interiors.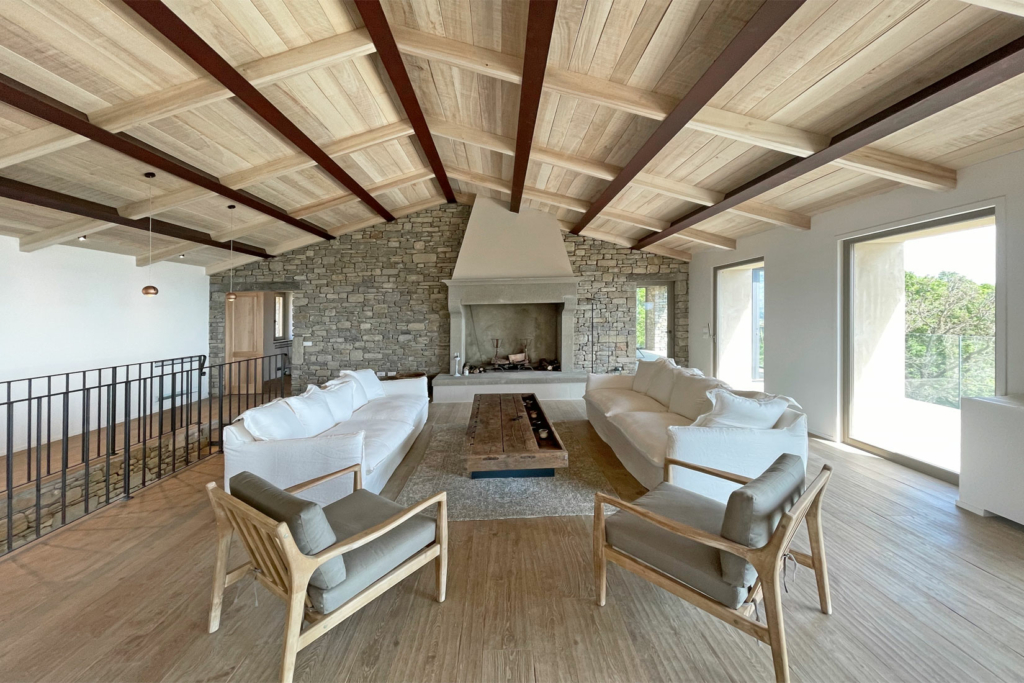 Wine Lovers Paradise: Private Wine Cellar
Italian wines are among the most loved all over the world. It's no surprise that purchasing an estate in the Italian countryside often comes with annex vineyards continuing the long-standing tradition of wine production. Why not opt for an in-house wine cellar?
In ancient times it was the only way of storing home-made wines. Now, a private wine cellar exudes luxury. Especially if the wine is from your own vineyards, such as the renowned Bordeaux of The Crete Senesi produced in this majestic estate in the heart of the Val D'Orcia, Tuscany.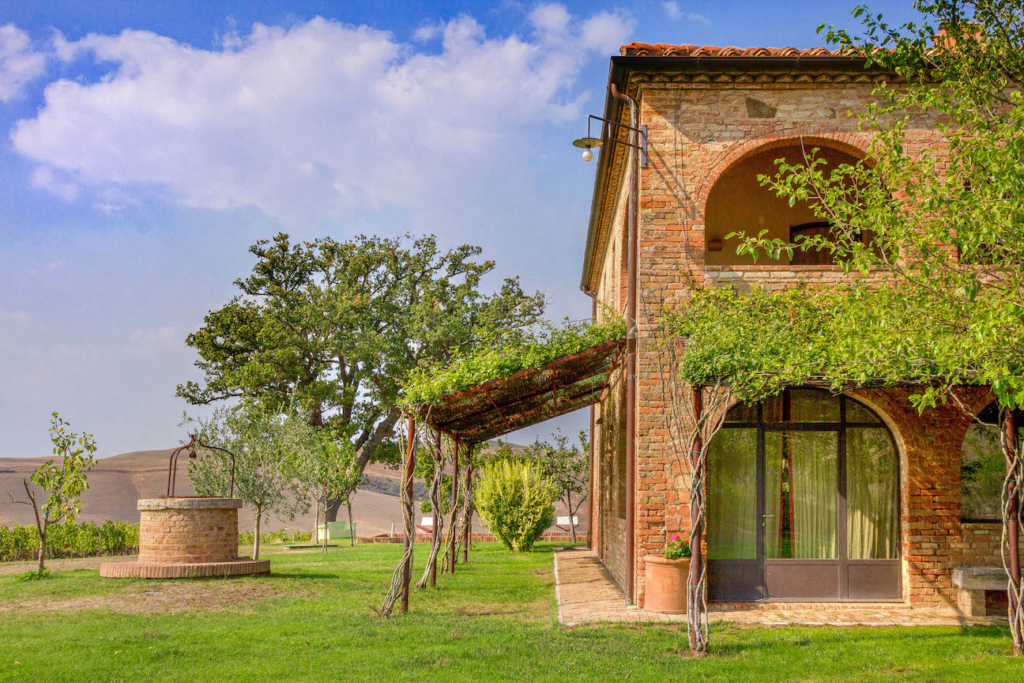 The features found in these Italian villas show that the best designs have a long history of practicality, elegance and craftmanship. By incorporating these four hallmarks in your next property search you will create a home that will never go out of style in its elegance, while celebrating artisanship and sustainability.