Italy is well known for its historical villas dotting the hilly countryside, but this majestic 16th century estate surpasses them all. Among its many treasures, here you will find pre-roman ruins scattered around the estate, a watchtower from the 1500s, antique 18th century custom furniture, wine cellars and a private chapel.
This stunning 966 sq.m. estate already was a key settlement in the Assisi area in pre-roman times. On this property several artifacts have been found, and the land surrounding this magical villa also presents ruins of a pre-roman temple dedicated to the Goddess Fortune.
Strolling through the many rooms of this house feels like traveling back in time. Its rustic-style tavern combines 19th century furnishings with pre-roman artefacts hosted by the fireplace. A closer look at the stunning details in this room will reveal table legs and wall lights handmade from real tree branches.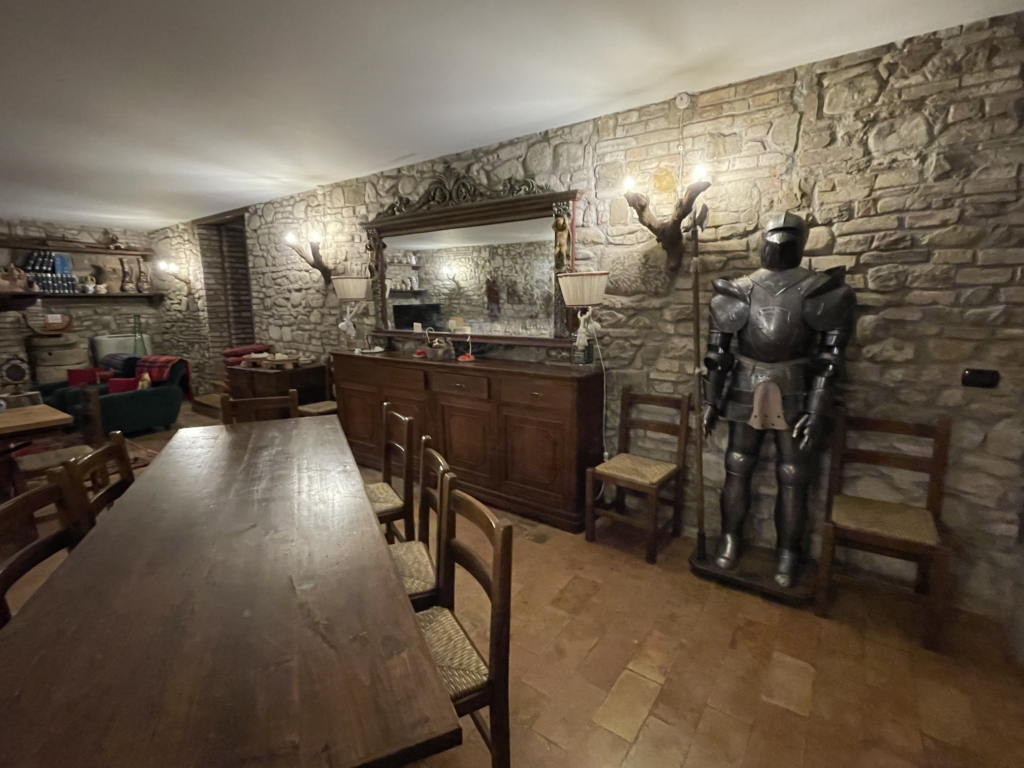 Every area of the villa is presented to the guest in a museum-like entanglement of historical artifacts. The main residence showcases a fine dining room with 19th century furnishings, enriched by two hand painted amphorae, and a handmade chandelier. For a more English feel you can step into the sitting room, whose antique furnishings revolve around a rustic fireplace enriched by a stunning wall painting by futuristic artist Iole Donati.
The natural theme of Donati's wall paintings continues on the second floor. Picture majestic lava stone floors in the entrance, flanked by a 16th century pharmacy bookcase, and custom-made wrought iron railings.
The real gem of the villa is the red lounge room, opening up like a secret Wunderkammer bound to please. The door leading you in the room is an original 18th century artifact that used to belong to Napoleon's wife, Maria Luisa of Austria. You immediately notice the 15th century fireplace, enriched by a series of hand painted Faentina ceramic tiles. In the fireplace, you see a Roman cinerary urn found on the property.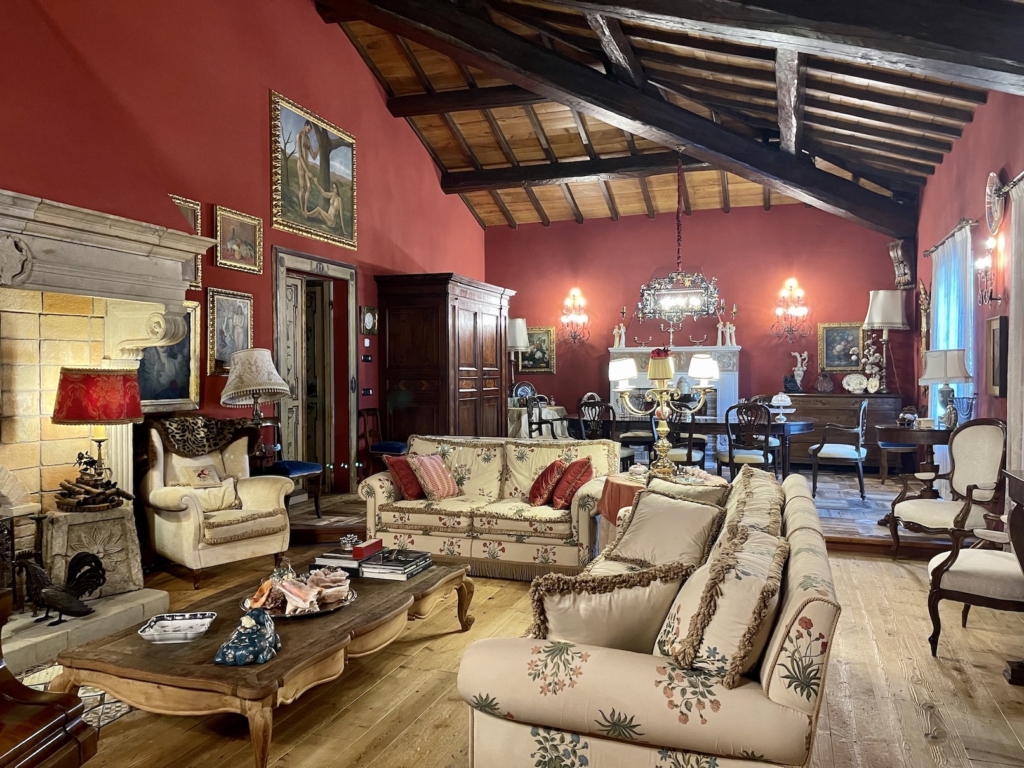 The English theme continues in the 19th century dining room. The floor you step on is in larch and spruce, and comes from a dismantled castle. Among the masterpieces that this home harbors is a 1798 wardrobe, which was made in this very room by an army deserter fleeing the battle of Lake Trasimeno.
Following a series of fascinating rooms, you step into the library, created in what used to be the 15th century watchtower – now showcasing priceless Damask upholstery, and wrought iron custom design pieces.
Three arches featuring 15th century capitals separate the kitchen area from the bedrooms. The kitchen floor is a masterpiece in itself, as it showcases a wonderful composition of Faentina ceramics coming directly from the Palace of the Popes of Avignon.
The bedrooms are decorated with antique coffered ceilings, 1700s French furniture, Pierre Frey tapestry and custom-made ceramic details. More luxury follows you in the bathroom, in its majestic bathtub in yellow marble and green Alps diamonds.
Every detail and every comfort in this museum-like villa have been integrated for a showpiece of unbridled elegance. Very few places can boast the same attention to detail like this one. Its fusion of different eras spanning over two thousand years makes for a refined, once-in-a-lifetime property that art and history aficionados do not want to miss.
For more information about this stunning property in Assisi, you can follow our link https://italianluxuryasset.com/property/superb-16th-century-estate-near-assisi-umbria/