For all of us Christmas is all about spending time with family and making memories—especially with your kids. By the way, due to the weather, you may sometimes be limited to indoor activities. So, rather than sitting your children down in front of a holiday movie (although we love doing that too!), spread your love and sit down with them doing these Christmas crafts, That You'll Love Making With Them.
The best part about these projects? You can create unique ornaments, Doing them every year will also make a great Christmas tradition! If you're looking to decorate your Christmas tree a little more, bookmark the many DIY Christmas ornaments ahead. Want an adorable item to put up on your wall or hang from the ceiling? We've got you covered. Or, if you want some ideas in addition to Christmas games for kids to them busy while you're making the holiday feast, there are slime recipes that will occupy them for hours.
Whatever you and your little ones choose to create, the most important thing is that you'll be spending extra quality time together—and who doesn't want that around the holidays? Grab some glue sticks and paint, and get started on our favorite Christmas crafts for kids.
DIY Christmas Balloon Wreath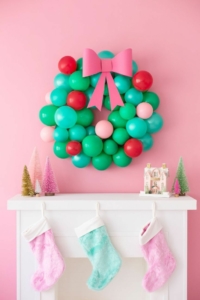 Take all the breath you have and inflate 40 green balloons of different shades, as well as a few red and pink balloons, which will give a candy touch to the whole thing. Ok, ok, a balloon air pump can help!
Tie them all to a round wire structure alternating some red and pink balloons with green ones. Make a nice fabric or cardboard bow and attach it on top and that's it!
You and your kids will have a unique Christmas wreath and that's not all. When the holidays are over there will be another fun part: popping all the balloons!
Sparkly Snowflake Ornament Craft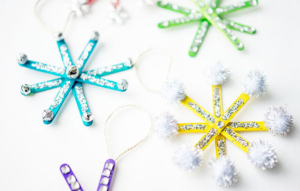 You can create these snow crystals, either to hang on the Christmas tree or as pendants under the chandeliers.
In addition, your children will learn a very important thing: the art of recycling. In fact, to make these crystals, you will need the wooden sticks of the popsicles, but if you forgot to put them aside last summer, don't worry, you can always buy them at the supermarket or on Amazon.
From here on, give inspiration to your imagination: take the tempera and color the wooden sticks of the colors you prefer and then decorate them with crystals, buttons, wool balls, even the kitchen aluminum sheets can add some shine. And don't forget glitters – they are always essential to add a bit of Christmas mood!
Christmas Popsicle Stick Craft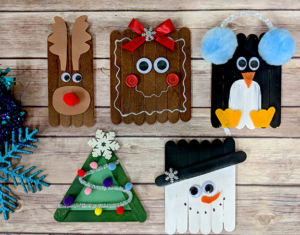 If you have some popsicle sticks left, you can also make lovely figures like a reindeer, a snowman or a cold penguin. You will only need sticks, colors, some cardboard and lots of imagination (if you don't have the last one, ask your kids for help)!
Handprint Santa and Reindeer Craft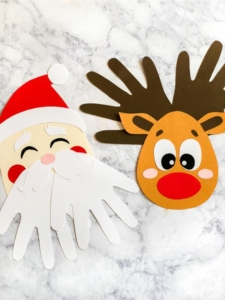 How many things can you do with your hands? A child – very many.
Draw the outline of his/her little hand, cut it out and with a little flair and imagination you can create a bearded Santa Claus and many other Christmas figures.
We did this last year and our girl was amazed!
Grinch Slime Craft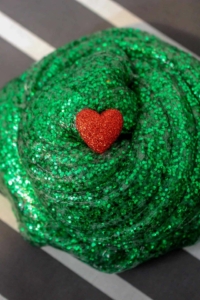 Slime is popular for its versatility, and the fact that it's extremely fun to play with! That's why your kids will enjoy mixing up a batch of Grinch-inspired slime—with a red heart to boot.
Scrap Ribbon Tree Ornaments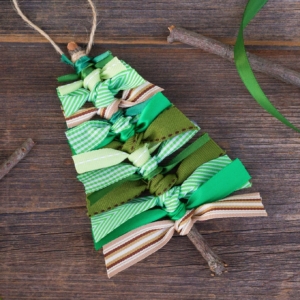 These Scrap Ribbon Tree Ornaments are lovely and we look forward to doing them ourselves!
What you'll need is:
• Straight sticks or cinnamon sticks, 6-inch
• Ribbons
• Hot glue gun
• Twine
• Scissors
After gathering supplies, invite kids to tie the scraps of ribbon down the twig or cinnamon stick.
For best results, bunch the ribbons close together. The ribbons will bend and slightly overlap. Gently tug them into place until you are satisfied with their placement. Use sharp scissors to trim the ribbon scraps into the shape of a Christmas tree. If desired, melt the edges of the ribbons with a match so the ribbon doesn't fray. Hot glue or tie a loop of twine to the top of the tree.
If desired, top the tree with a wooden star, yellow button, or primitive metal star.
Your Scrap Ribbon Tree Ornament is complete!
Now you have plenty of ideas to enjoy fun time with your kids and prepare your home for the Christmas holidays.
Whatever you do, it will be a success, because you'll do it together.